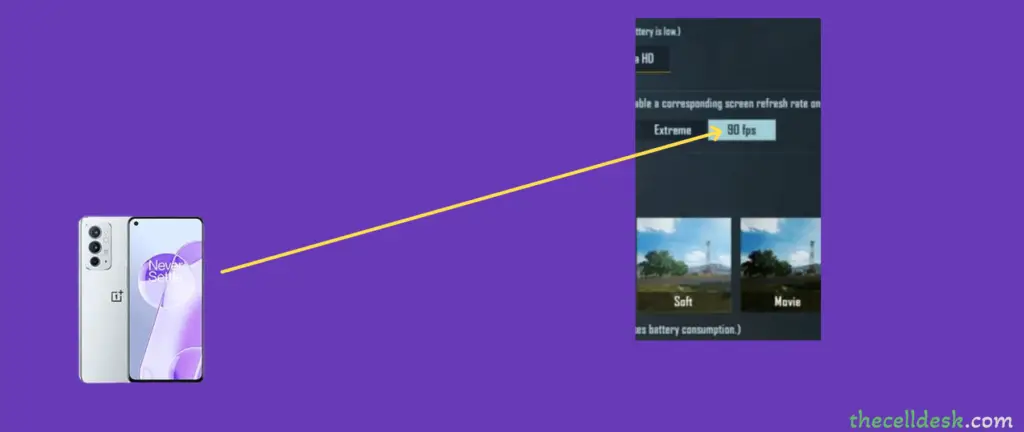 If you are a PUBG Mobile lover and want to enjoy the seamless gaming experience, then enable 90FPS Mode on your OnePlus 9RT. Here, you will find simple instructions to follow.
To enhance the gaming experience, most of the latest smartphones come with high-end refresh rates that range from 90-120 Hz. Enabling this mode provides a smooth gaming exposure with high refresh rates.
PUBG has added some new frame rates depending on your phone compatibility. Now, you can set the frame rates to 90 HZ in PUBG mobile on your OnePlus 9RT. This will provide a next-level gameplay experience.
How To Activate 90FPS Mode in PUBG Mobile on OnePlus 9RT?
Before proceeding to make changes in PUBG Mobile frame rates, you will need to access the display refresh rate on your smartphone. Change the display refresh rate to 90Hz on your OnePlus 9RT.
How To Change Display Refresh Rate To 120Hz on OnePlus 9RT?
Head over to the "Settings" on your smartphone.
Next, tap "display".
Once you are in the display interface, tap "Advanced".
Then, tap the "Refresh rate" option
In the refresh rate window, you will see multiple modes (Smart 120Hz) and (Standard 60Hz). By default, the 60Hz mode is selected on every smartphone to avoid battery drainage issues.
Now, simply select the Smart 120Hz mode to avail higher refresh rate on your OnePlus 9RT.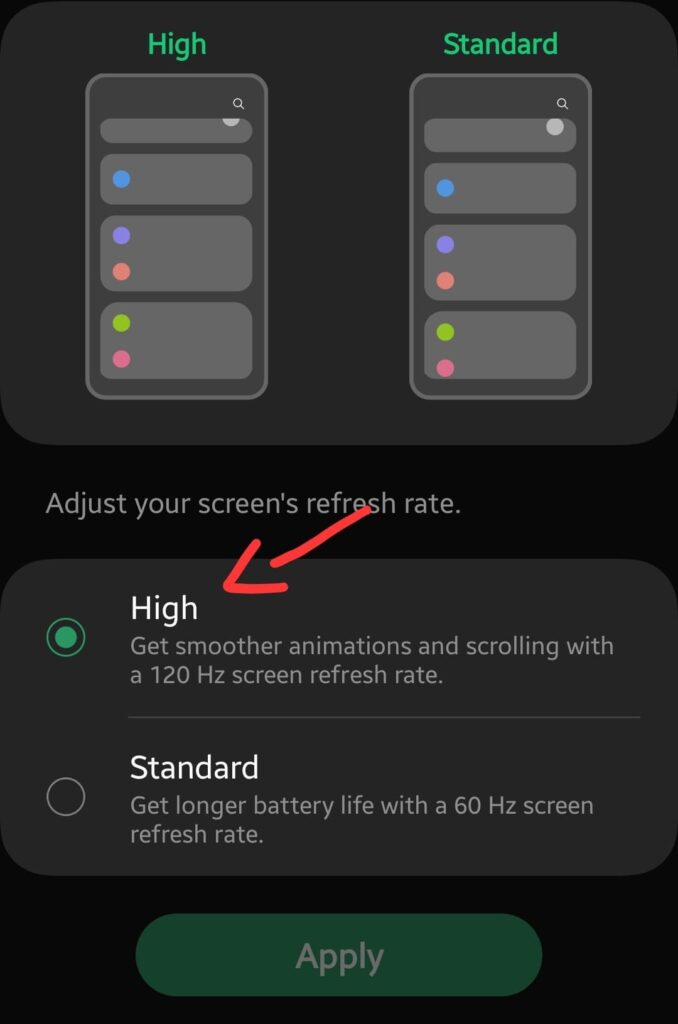 This mode provides smoother display results. You will experience much better results with the UI motions and transition. A higher refresh rate was introduced keeping in view the user's gaming experience.
How To Enable 90fps Mode in PUBG Mobile? Here's the Quick Solution
Once, you are done with the above, then follow the below steps:
Step 1: Launch the PUBG Mobile on your smartphone.
Step 2: Next, tap "Settings".
Step 3: Then select "Graphics".
Step 4: Now, tap the "Smooth" option among other options available in the tray.
Step 5: Finally, you will be able to see the frame rate settings tray underneath.
Step 6: Simply, select "90fps mode" from the available options.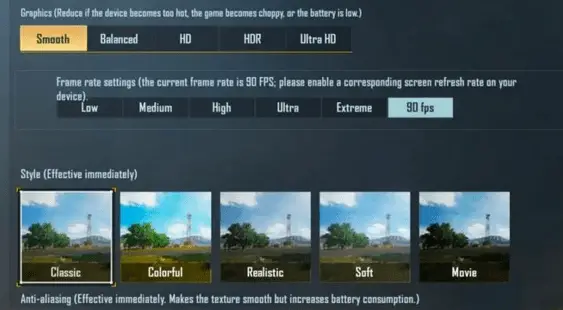 Moreover, you will also need to disable the dynamic refresh rate to avoid the adaptive nature. Because the dynamic refresh rate automatically alters according to the phone's resources.
So when you launch the game with a 120Hz refresh rate will become tougher for the phone battery. Eventually, to avoid this, the dynamic refresh rate will reduce to 60Hz which is then not as per the requirement to avail 90fps mode in PUBG.
Therefore, to avoid this issue, you will need the display refresh rate at 120Hz (fixed). So that it shouldn't behave dynamically onwards. Follow the steps below to make the dynamic refresh rate to be fixed.
Restart your phone.
Open the "Settings".
Next, select "Apps" and then "Manage Apps".
Now, locate and tap the "Battery and Performance".
Here, you will be able to see the "Clear Data" option. Tap on it.
Finally, head over to the "Display->Advanced->Refresh rate" and select the 120Hz refresh rate option.
How To Fix 90fps Mode Not Visible in PUBG Mobile on OnePlus 9RT?
If you are having issues while finding the 90fps mode in PUBG Mobile, then consider clearing the cache of the PUBG app. It has also been observed that clearing the cache of PUBG Mobile might resolve this particular issue regarding 90fps mode in PUBG.
Clear Cache of PUBG Mobile
Launch the "Settings" on your phone.
Next, select "Apps".
Locate "PUBG Mobile" and tap on it.
Select "Storage" from the different options available.
Here, you will be able to see the option "Clear Cache" somewhere at the bottom. Just tap on it.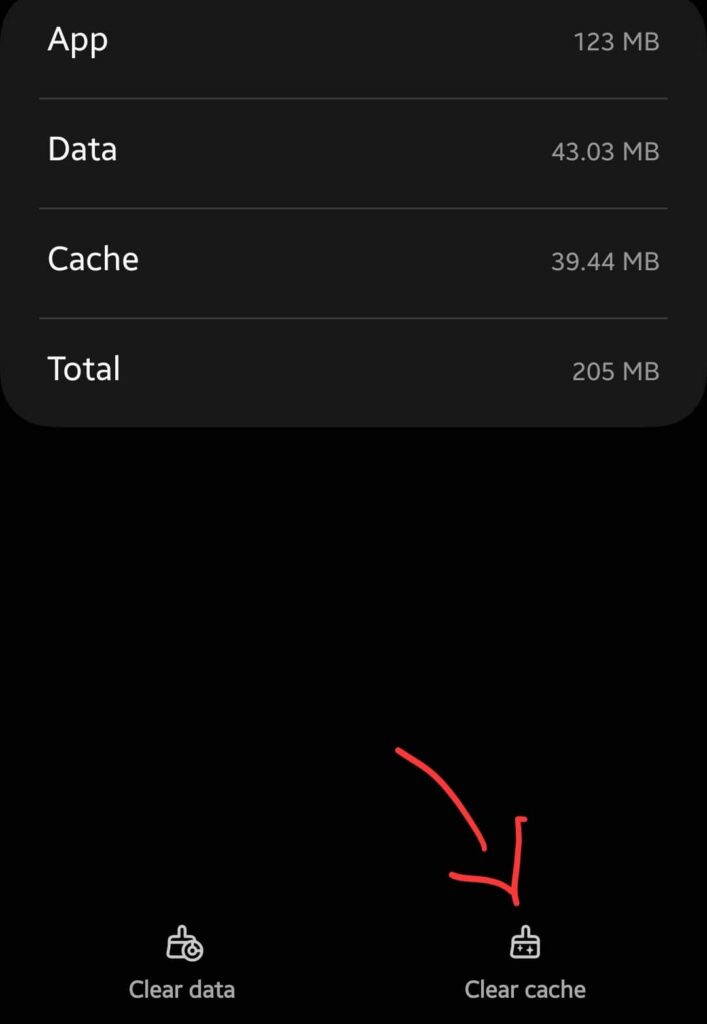 Hopefully, now the 90fps mode will be visible now, select the 90fps mode in PUBG Mobile. If the issue is still intact, then restart your phone.
Once, your phone boots up, then check for the PUBG Mobile updates. If you find any updates for PUBG Mobile, then download and install it on your phone. Once, you have updated the PUBG Mobile, now launch it and enable the 90fps mode in the game settings.
There is also an alternate way that is a bit technical but can unlock the 90fps mode in the PUBG Mobile settings.
How To Unlock 90fps Mode in PUBG Mobile?
If the 90fps settings are not visible in the PUBG Mobile, then you can manually visible it with the help of a config file.
You should download the 90fps config file and then extract it.
Now, copy or move the extracted config file to the path below on your smartphone.
Android/ data/ com.tencent.ig/ files / UE4GAME / ShadowTrackerExtra / ShadowTrackerExtra / Saved/ SaveGames /Copy and paste the "Config file" here
Now, restart your phone and then launch the PUBG Mobile, and check if the 90fps mode is visible in the settings.
Benefits of enabling 90FPS Mode in PUBG Mobile
With this feature enabled, PUBG users will have an edge over the other players in terms of smoothness. The higher the frame rate, the better the gameplay experience you will get.
This will also result in enhancing your playing skills by providing faster frame rates and you will be steps ahead of your opponent playing with regular mode.
Conclusion
Want to play PUBG Mobile in 90fps mode on your OnePlus 9RT? To adopt this mode, you will need to make slight changes in the settings of your smartphone and alongside PUBG Mobile as well.
First of all, do consider changing the display refresh rate of your OnePlus 9RT to (Smart 120Hz) by following below:
Settings->Display->Advanced->Refresh Rate-> change to (Smart 120Hz)
After that, proceed to the PUBG Mobile settings and access the graphics.
Settings->Graphics->Smooth->Change the frame rate to 90fps mode
About OnePlus 9RT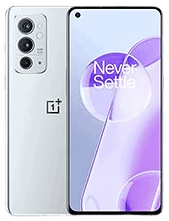 The phone comes with a 6.62-inch AMOLED, 120Hz Display refresh rate, providing a resolution of 1080 x 2400 pixels.
Moreover, the phone runs on Android 11 including ColorOS 12 powered by an Octa-Core processor. The built-in memory holds 128/256 GB with 8/12 GB of RAM.
At the back of it, there is a triple camera setup with a 50MP + 16MP + 2MP primary lens with Dual-LED flash including other features. In addition, a 16MP secondary lens for selfies is available in front.
It is powered by a Li-Po 4500 mAh battery. You can find this smartphone in Hacker Black, Nano Silver, and Blue colors.