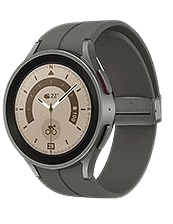 Have you unboxed your new Samsung Galaxy Watch 5 Pro? Now, it's time to set it up accordingly to utilize each and every feature to full of its potential. In this comprehensive guide, we will explore the features of the Galaxy Watch 5 and more specifically how to utilize them in our daily routines.
How Long Does It Take To Set Up Samsung Galaxy Watch 5 Pro?
It won't take much time. Just spare 2-3 minutes to make it ready to start functioning. Things to do before setting up your Galaxy Watch 5.
Charge your watch completely after unboxing it.
Launch the Galaxy Wearable app on your Smartphone.
Make sure to sign in to your Samsung account on your smartphone.
Proceed with checking all the Google terms & conditions.
Follow the on-screen instructions on your watch to make it ready.
Samsung Galaxy Watch 5 Pro is the latest edition of the Galaxy Watch series with incredible features to cover up the gap in our daily routine tasks. You can have plenty of features on your wrist while wearing this piece of hardware.
Samsung Galaxy Watch 5 Pro, priced at 519 Euro comes with 1.4 inches Super AMOLED touchscreen display, offering a 450 x 450 pixels resolution. On top of it, the display is protected by sapphire crystal.
On the software side, you will be experiencing Android Wear OS 3.5 with One UI watch 4.5. Moreover, It comes with an Exynos W920 chipset on board powered by a Dual-Core 1.18 GHz Cortex-A55 processor.
It has 16 GB of internal memory for consuming data standalone followed by 1.5 GB of RAM. Moreover, It can accompany you longer than Galaxy Watch 4 Classic due to Li-Ion 590 mAh battery.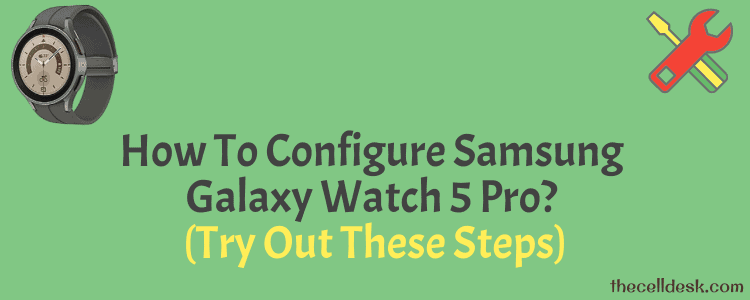 Steps To Configure Samsung Galaxy Watch 5 Pro in Few Minutes [Follow These Steps]
Follow the steps below before to completely configure it before wearing it.
Step 1: After a complete charge, press and hold the "Home" button to turn it ON.
Step 2: Now, open the Galaxy Wearable app on your smartphone with which you are going to pair it.
Step 3: Next, tap on the "Start" button to locate your Galaxy Watch 5 Pro. Once, the search results show your Watch with a name, tap on it to get it paired with your smartphone.
Step 4: Now, you will receive a code in the form of digits on your Watch. Proceed with confirming that verification code.
Step 5: If you are already signed in to your Samsung account, then avoid this step otherwise sign in first, or if you don't have an account, then create a new account.
Step 6: Now, you will be required to provide access (Allow Or Deny) to your Galaxy Watch 5 to the list of items on your phone such as Photos, media, Call logs, Contacts, Phone calls calendar, and a feature to send or view SMS messages.
Step 7: To utilize your watch to its complete potential, you should allow access to all the items your watch is capable of integrating with them. Proceed by following the on-screen instructions.
Step 8: Now, you will be able to see Google terms of services on the display, proceed continuing with it all, and finally, you will be asked to sign in to your Google account to complete the pairing configuration of your watch on your smartphone.
Step 9: Now, on your watch display you will be able to see the "Starting…" label meaning that your watch is preparing to launch into the interface for the first time after being paired with your smartphone.
Step 10: Finally, when your watch is completely configured, now play around with it to explore your Galaxy Watch 5. Swipe from top to bottom on your Watch screen to open the apps tray menu, here you will be able to access different apps installed on your watch along with the watch settings app.
Bonus Tips – How To Perform a Reset on Samsung Galaxy Watch 5 Pro?
If you are stuck in an issue on your Galaxy Watch 5 Pro, then performing a soft reset might get everything right back. Generally, there are two types of reset that refer to,
When you encounter an issue on your device, you should opt for the soft reset first. As most of the time, things get normal after soft resetting your device. Here are the steps below to soft reset your Galaxy Watch 5 Pro:
Simultaneously, just press and hold both the button "Home (Power Keys)" and "Back" on your Galaxy Watch 5 Pro.
Once, the power options appear on the watch screen, tap on the "Turn Off".
Wait for a while and your watch will completely turn OFF.
Now, again press and hold the "Home (Power Key)" to turn ON your Galaxy Watch 5 Pro.
That's it, you have successfully performed a soft reset on your Galaxy Watch 5 Pro. If the issue still persists, then you should opt for performing hard reset/factory data reset on Galaxy Watch 5 Pro to eliminate the issue.
Conclusion
The quick responding feature with the help of a rotating bezel was much liked by the users. But unfortunately, there is no more rotating bezel in both the recent releases Galaxy Watch 5 and Galaxy Watch 5 Pro.
Samsung has improved the battery power a lot more in its Galaxy Watch 5 Pro series as compared to Galaxy Watch 4 Classic series which was a bit low on battery power.
There are some new features that you are going to experience with Galaxy Watch 5 series. One of these features includes the Skin temperature metrics. With this feature, your Galaxy Watch 5 is going to track the temperature of your skin.