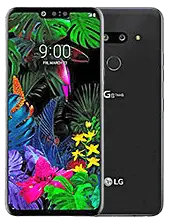 If you are unable to proceed with a fingerprint sensor authentication process on your smartphone, then there is a high chance your registered finger might be dirtier or the fingerprint sensor area might be covered by stains.
Here, we will be explaining some proven fixes that will lead you to resolve the fingerprint sensor not working issue on your smartphone.
LG G8 ThinQ Fingerprint Sensor Not Working
If the fingerprint sensor on your LG G8 ThinQ is not working properly, then you need to start the troubleshooting process. In this guide, we will share proven fixes that could eliminate fingerprint sensor issues on your smartphone.

Soft Reset
Sometimes, a minor glitch in the device software happens to cause such an issue. These types of minor problems can be very well eliminated by performing a soft reset on your device. To do that, there are very simple steps to follow below:
Press and hold the "Power/Lock" button until the power option appears on the screen.
Now, select the "Power Off" option and then tap "Power Off" to confirm.
Once, the phone is turned Off completely, now wait for several seconds and then turn it back ON with the help of the Power button.
That's it, you have successfully performed a soft reset on your LG G8 ThinQ.
Make Sure the Fingerprint Sensor area is Clean
Most of the time, the fingerprint sensor malfunctions due to strains on the screen. Hence, make sure that the fingerprint sensor area is clean. Wipe the area with tissue paper or a small piece of cloth to clean it properly.
Besides this, also clean your registered finger if it is dirty somehow. The dirty finger might also become an obstacle in the authentication process.
Register with Multiple Fingers
When activating the fingerprint ID on your smartphone, you should register with multiple fingers as this might allow you to get the benefit of an alternate finger when the authentication process fails with a particular finger.
Clear System Cache
Another fix that can lead you to eliminate this particular issue is by booting into the recovery mode of your smartphone. By doing so, you will be then able to wipe the cache partition. This method removes all the temporary files that might be causing issues to your device.
Steps To Follow below:
Switch OFF your smartphone.
Next, press and hold the "Power" and "Volume Down" buttons until the system recovery interface shows up. After that, release both buttons.
Now select and confirm the "Wipe cache" option with the help of the volume and power buttons.
Wait for the wiping cache process to complete and then reboot your smartphone.
That's it, you are done with clearing the system cache. Once your smartphone boots up successfully, then check whether the fingerprint sensor is working fine or still the problem persists.
Check For the Recent Software Update


Most of the problems occur due to an outdated version of software running on the device. Hence, you need to check for the latest update and if available, then download and install it on your smartphone. Downloading and installing the latest updates is very simple and can be done by following below simple steps.
Head over to "Settings" on your phone.
Next, tap on "About phone -> Software Update".
Now, tap "check for the update".
Finally, tap "Download Now".
If any recent version of the update is available, then download and install it on your LG G8 ThinQ.
Perform Factory Data Reset


This method is very effective and worth considering when facing any kind of issue on your device. This will restore all the settings to the factory default settings. But you need to take a complete backup of your important data as it will wipe all the available data on your device.
Here are the steps below:
Head over to "Settings-> General".
Secondly, tap the "Backup & Reset" option.
Next, scroll down a bit and tap "Factory Data Reset–> Reset phone".
Finally, tap "Delete all" to start the factory data reset operation on your phone.
Wait for the process to complete, once it finishes, the phone will boot up and will be directed to the Welcome screen. Now, set up your phone accordingly by following the on-screen instructions.
Related: How To Fix LG G8 ThinQ Wireless Charging Not Working?
Conclusion
Are you having issues with the fingerprint sensor on your LG G8 ThinQ? If yes, follow this troubleshooting process that includes multiple fixes. Some of them are as follows:
Soft Reset your smartphone.
Clear System Cache.
Update Software.
Perform Factory Reset
For more fixes, follow this detailed guide that will help you resolve this particular issue regarding the fingerprint sensor.