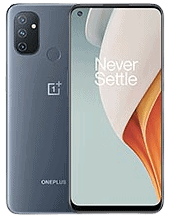 Normally, the hotspot issue occurs due to various reasons such as weak signals of your cellular network, entering wrong passwords, or in most cases, the hotspot name similarity might cause problems.
Related to the mobile hotspot issues, if you want a proper solution, then you need to follow this guide to learn about numerous easy and small fixes that will help you resolve this issue.
OnePlus Nord N100 Hotspot Not Working
We have discussed plenty of fixes that will help you eliminate the hotspot-related issues on your OnePlus Nord N100. Without wasting your time, continue reading this guide to the end and you will be able to find the ultimate fix to your problem.

Soft Reset Your OnePlus Nord N100
Sometimes, a minor glitch in the device software happens to cause such an issue. These types of minor problems can be very well eliminated by performing a soft reset on your device. To do that, there are very simple steps to follow below:
Simultaneously, press and hold the "Volume Up" and "Power" buttons until the power options appear on the screen.
Next, select the "Power OFF" option and wait for your phone to completely turn OFF.
Now, wait for several minutes (2-3) and then press the Power button to turn ON your smartphone.
That's it, you have successfully performed a soft reset on your OnePlus Nord N100.
Check the Distance
The range of hotspot varies depending on your device's WiFi hotspot protocol. Normally, it can provide a range of between 65 to over 300 feet. Therefore, you need to be in a range. Try to reduce the distance between the main mobile hotspot device and other phones.
Check Signal Strength
The Hotspot problem might also occur due to the weak signal strength of your device's cellular network. If the signals are weak, then your device might be unable to share the hotspot network with another device. Hence, make sure that the signal strength is strong.
Check For the Recent Software Update


Most of the problems occur due to an outdated version of software running on the device. Hence, you need to check for the latest update and if available, then download and install it on your smartphone. Downloading and installing the latest updates is very simple and can be done by following below simple steps.
Head over to "Settings".
Next, tap "Systems".
Scroll down to the bottom and tap "System Updates".
If any recent version of the update is available, then download and install it on your Oneplus Nord N100.
Make Sure Data Saver Mode is Disabled
There are several options in the network settings that are by default enabled on your phone or you might have enabled them when they are required. But all the options are not feasible for a particular feature such as a hotspot. One of these options includes a Data Saver Mode that needs to be disabled on your phone while connecting to a hotspot.
The data saver mode's aim is to save data and hence limit data consumption which might cause network interruptions and other related issues.
Head over to "Settings" on your phone.
Next, tap "WiF & Network".
Now tap "Sim & Network".
Further, scroll down and tap the "Data Saver" option.
Finally, disable the "Data Saver Mode".
Deactivate Other Connectivity Medium (Bluetooth)
Before enabling the Hotspot network, you need to disable Bluetooth on your device. This is because both of these mediums might be using the same frequency bands such as 2.4GHz which might cause the interference issue.
Therefore, it's better to disable Bluetooth in the first place. Contrary to this, if your device is supporting both 2.4 GHz and 5GHz bands, then you can switch your Hotspot network to the 5GHz band to eliminate Bluetooth interference.
Head over to "Settings->WiF & Network".
Next tap "Mobile Hotspot and Tethering".
Now, tap the "Mobile Hotspot" option.
Further, tap the "AP Band" option and select the 5.0 GHz band.
Disable Airplane Mode
Check whether you have turned ON the Airplane mode accidentally on your devices. If so, then you will be unable to use the Hotspot feature. The Airplane mode enabled on your device would disable all the other connectivity mediums such as WiFi, cellular Network, and Mobile hotspots.
Therefore, disable the Airplane mode on your OnePlus Nord N100.
Disable Cellular Connection on your Phone
If the cellular connection is enabled on your phone while connecting to a Hotspot, then this might cause an issue due to network prioritization. Your phone will prioritize the connection based on the network quality. If the cellular network such as 3G, 4G, and 5G is more stable than your desired hotspot network you are connecting to, then it will automatically try to connect to the cellular network.
Therefore, to avoid this issue, you might need to turn OFF the cellular network on your Phone.
Refresh Your Mobile Hotspot
There might also be a possibility of a minor glitch in your network settings. Therefore, to get the network back on track, this can be done with a simple refresh. To do that, simply disable the Hotspot on your device and then wait for some time.
After a few minutes of time, again enable the Hotspot on your device.
Disable All Downloads
There might be several apps automatically updating in the background on your smartphone which could slow down the network and causes connection issue. You need to check and disable all the apps for auto-updates on your smartphone. Also, pause all downloading such as OS updates, movies, and music on your smartphone.
Disable VPN
You can't ignore the VPN if you are facing any network issues on your device. Most of the time, the VPN is the real culprit behind the network issue. Therefore try to avoid VPN in the first place when connecting your device to a mobile hotspot. Disable the VPN on your smartphone while using the Hotspot.
Deactivate Power Saving
This feature is helpful at a time when your primary concern is battery power. It reduces the performance of your device to enhance the battery power of your device due to which many of the features are unable to perform well.
Hence, you need to disable the power saving on your phone. Along with this, also deactivate the "Adaptive battery", and "adaptive power saving" options on your device.
Bluetooth tethering
There is also an alternative option to a mobile hotspot when sharing an internet connection with other devices. With the help of Bluetooth, you can connect your smartphone to other phones to share an internet connection.
Head over to "Settings->WiFi & Network".
Next tap "Hotspot and Tethering".
Now, enable the "Bluetooth Tethering" option.
Finally, connect your phone with the help of Bluetooth.
Perform Network Reset


Performing a network reset on your phone might resolve the network issue well.
Head over to "Settings-> System".
Next tap the "Reset" option.
Now, tap "Reset WiFi, Mobile, and Bluetooth".
Finally, continue tapping the "Reset Settings" button.
This will reset all the network settings including Wi-Fi, Mobile Data, and Bluetooth.
Perform Factory Data Reset


This method is very effective and worth considering when facing any kind of issue on your device. This will restore all the settings to the factory default settings. But you need to take a complete backup of your important data as it will wipe all the available data on your device.
Here are the steps below:
Head over to "Settings" on your smartphone.
Next, tap "Systems".
Scroll down to the bottom and you will see the "Reset" option. Just tap on it.
Here, you will see various reset options.
Tap on the one labeled "Erase all data (factory reset)".
Now, also select the "Erase internal storage" option by tapping the toggle button.
Finally, tap the "Erase All Data" button at the bottom.
Wait for the process to complete, once it finishes, the phone will boot up and will be directed to the Welcome screen. Now, set up your phone accordingly by following the on-screen instructions.
Related: How To Fix Adaptive Brightness Not Working Properly on OnePlus Nord N100?
Conclusion
If you want a quick solution to cope with the hotspot issue on your OnePlus Nord N100, then you must opt for the following fixes:
Reboot your phone.
Update the Software.
Disable Data Saver Mode.
Perform Network Reset.
The above fixes will lead you to resolve the mobile hotspot issue on your OnePlus Nord N100. Further, you must read the complete guide to explore plenty of more fixes to the mobile hotspot issue.